The iGTBOxford school of transaction banking brings you a series on Strategy and corporate banking solutions in the times of Covid 19.
This panel session with the Heads of Transaction banking from Santander, Nordea, Intesa Sanpaolo Group and Abu Dhabi Islamic Bank focuses on how these premier banks are:
Protecting employees and giving them a strong sense of shared purpose
Stress-testing their financials
Prioritizing resources to minimize the Covid impact on clients
Identifying the key technology and behaviors/needs that will redefine the bank-corporate relationship post the pandemic
Speakers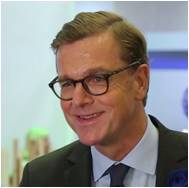 Patrik Havander
Head of Transaction Banking Commercial Excellence, Nordea
Michael Vallance
Head of Transaction Banking,
Santander UK Corporate & Commercial
Sergio Dalla Riva
Head of GTB Product Development,
Intesa Sanpaolo Group
Haytham El Maayergi
Global Head of Transaction Banking,
Abu Dhabi Islamic Bank
We bring you the recording of this session, so you can watch, learn, analyse and take away the insights at your convenience.
Please fill in the form below to view the full recording and Q&A of the session.